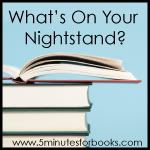 The folks at 5 Minutes For Books host What's On Your Nightstand? the fourth Tuesday of each month in which we can share about the books we have been reading and/or plan to read.
Here is what I've finished since last time (links in this section are to my reviews):
Rare Earth by Davis Bunn. Former operative Marc Royce has been sent into Kenya to help bring supplies to an area devastated by drought and a volcano eruption, but he secretly has another mission. Excellent.
The Bridesmaid by Beverly Lewis, second in the Home to Hickory Hollow series, Amish fiction. Joanna has been a bridesmaid multiple times but finally meets a young man, except he is from another town and obligated to work his father's farm. Her secret hobby of writing becomes known and gets her in trouble. Always love Beverly Lewis: hers is the only Amish fiction I read.
The Discovery by Dan Walsh. A young author inherits the home of his famous author grandfather and finds an old unpublished manuscript which may reveal things his family never knew. Very good.
The Maid of Fairbourne Hall by Julie Klassen. A well-to-do young women escapes her step-father's plans for her to wed an unscrupulous young man by disguising herself as a maid and going to another town, ending up at the home of two brothers who were former suitors. A very enjoyable read.
A Wrinkle in Time by Madeline L'Engle, not reviewed yet.
I'm currently reading:
The Disciplines of Grace by Jerry Bridges with Challies' "Reading Classics Together" group.
Unless It Moves the Human Heart: The Craft and Art of Writing by Roger Rosenblatt
Thriving at College: Make Great Friends, Keep Your Faith, and Get Ready for the Real World! by Alex Chediak, since my youngest just started college.
When You Come Home: The True Love Story Of A Soldier's Heroism, His Wife's Sacrifice and the Resilience of America's Greatest Generation by Nancy Pitts. This story had been featured in Tom Brokaw's Greatest Generation, and this is the full story.
Up next:
Uncle Tom's Cabin for Carrie's Book Club October pick, which I happen to be hosting. Join us? I've listened through the audiobook but want to go through the book as well.
Full Disclosure by Dee Henderson coming out next week. I'm glad to see a new one from Dee! I really enjoyed her previous books.
Wildflowers of Terezin by Robert Elmer
Audiobooks of C. S. Lewis's Space Trilogy: Out of the Silent Plant, Perelandra, and That Hideous Strength
What's on your nightstand? Happy reading!