One of the house projects I've wanted to work on is our back patio. My husband likes to sit on our front porch some times when it is cool:
It is nice there, but I felt like the back area would be more private and I'd be more likely to go there if I wanted to sit outside for a while. Plus I thought it would be nice for everyone to be able to eat out there when he grills.
I didn't take a "before" picture, but all we had out there was a table my husband found on sale somewhere a while back, a couple of lawn chairs, and the grill.
One of my birthday presents that he just had a chance to assemble this weekend was this swing:
Recently he bought some chairs to go with the table, and he wants to paint the table to match the chairs.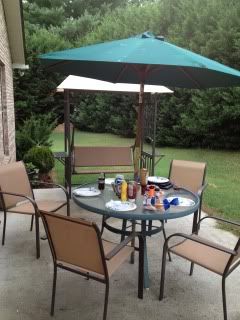 I'd like to replace the green umbrella, too, since it has some holes in it anyway, to match the canopy over the swing.
I didn't take a "before" photo of this area, either, but the dog's kennel had been partly on the patio and partly on the grass, so the grassy area was kind of scraggly. We sold the kennel after she died. I had been wanting to plant a hydrangea bush because I loved them at our old house, but there wasn't a place in the front where one would really fit. Then it occurred to me it could go right here beside the patio and have plenty of room to grow. Jim planted it for me on Saturday.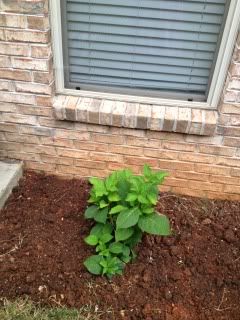 I think I might put some pansies there, too, and cover the dirt with mulch.
I also took an old planter that had been out by the shed, spray-painted it, and repotted a little rose plant that Jim had gotten me for my birthday. I also replanted a little plant that had been on my kitchen windowsill — I hope it perks up out here.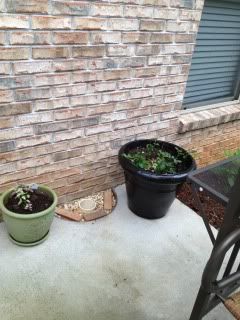 And so we were able to put the patio to use for a Labor Day picnic yesterday:
It was a little buggy, but Jim defended us with his "magic wand," the electric flyswatter.
I didn't remember til we were half-way through eating that I had a citronella candle. Next time I'll try to light that before we get out there.
You can see that our back yard is pretty small, and at first I was dismayed by that, but then realized that our stage of life we don't really need a lot of space back there (plus the guys appreciate having less to mow.
)
And one thing really nice about the yard is that the back is lined by evergreen trees. Even though the fence of the neighbor behind us is just behind the trees, we still have a feeling of privacy (at our last house, once the leaves fell off in autumn, I could see from my kitchen window straight into the family room of the house behind us, where the man sat watching TV. I'm sure he was usually watching TV rather than our windows, but still, it felt creepy. I put a suncatcher there at eye level in the window, but I still felt like we were spying on each other. So I am VERY glad these trees are evergreens!)  So far I haven't heard these neighbors right back there at the fence unless they are doing yard work.
It was especially nice last night when Jason remarked that it was so peaceful back there. I thought, "Yes! That's exactly what I was going for!"
I'm glad to have this new area shaped up to minister not only to our family but to guests. I'm looking forward to spending some time on the swing with a good book, too.
Thanks, hon, for the hard work in putting it together! And thank you, Lord, for these gifts of peaceful spots.